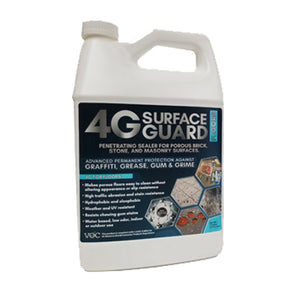 4G SURFACE GUARD (FLOORS) is a durable, long-lasting, penetrating sealer designed to provide stain resistance from Graffiti, Gum, Grease, Grime, Pollution, Salts, Moisture, UV sunlight, food, wine, and other spills, as well as maximum abrasion resistance against normal mechanical stress from pedestrian traffic, wheel-based equipment (bikes, skateboards, vehicles etc.), and regular professional cleaning processes such as pressure washing.

4G SURFACE GUARD is composed of a specially formulated blend of halogenated methacrylic micro co-polymers which effectively repel liquid-based grime, inhibiting it from absorbing into the porous substrate and bonding with the surface materials. It is not film-forming, but rather penetrates into porous substrates through their natural absorbency, creating a microscopic high density molecular protective network below the surface. As a result, the substrate remains vapor permeable and the final finish is largely invisible. 4G SURFACE GUARD performs for 5 years or longer under normal traffic conditions, and can be easily reapplied as needed without stripping the original coat.

4G SURFACE GUARD is suitable for natural stone floors, masonry, concrete, terracotta pavers, and other mineral surfaces, and will not compromise the appearance, friction, and natural slip resistance of the surface. Once applied, cleaning is much faster and easier. Permanent stains and damage is avoided, prolonging the life and natural integrity of your floors.

Ideal for high-traffic locations including facilities, schools, parking garages, decks, driveways, skateparks, sports stadiums, downtown areas etc. Works brilliantly in conjunction with WORLD'S BEST GRAFFITI REMOVAL PRODUCTS.
1 gallon