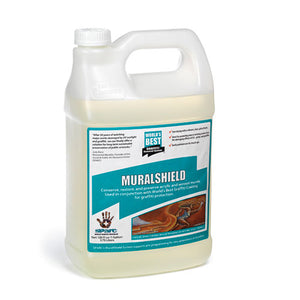 MuralShield is designed for the conservation of fine art acrylic murals. It offers UV protection, consolidation, and weatherproofing. The coating is flexible and completely clear, producing a luster to glossy finish. Typical coverage 200-250 sq ft.per gallon.
MuralShield works as a protective and isolation layer. It is a conservation grade coating and will not protect acrylic murals from graffiti or vandalism alone. Apply 2-3 generous coats of MuralShield, allow to dry thoroughly for 15-20 minutes, and then apply two generous coats of World's Best Graffiti Coating (WBGC). Muralshield is applied only once upon completing a new work or restoration.
MuralShield is best sprayed with an airless compressor or HVLP spray gun. If these are not available Muralshield can be applied using an Acetone rated pump up sprayer such as our 3 gal SOLO 487-CI sprayer. Muralshield can also be brushed on with a solvent-rated synthetic bristle brush or natural hair brush.
MuralShield is a hazardous chemical so plenty of caution should be used when applying it. Respirators, long sleeve gloves, and a splash-proof guard should be used when working with MuralShield. It is highly flammable and should be kept far from potential ignition sources.