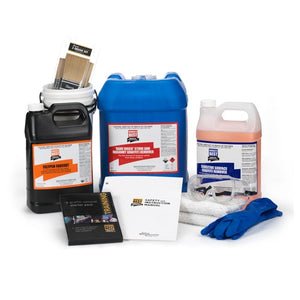 The Professional Starter Pack provides everything you need to achieve the same incredible results as the most successful contracting teams and cities throughout the USA, Australia and the UK.

This pack will enable you to eradicate over 3000 square feet of typical graffiti all in one morning!

Products are packaged in sizes proportionate to how you would use them for everyday graffiti removal.
Professional Starter Pack Contains:
5G Bare Brick, Stone and Masonry Graffiti Remover
1G Sensitive Surface Graffiti Remover
1G Feltpen Fadeout
3 Professional chemical brushes
3 Handy ½ gallon buckets
3 Toweling Cloths
World's Best DVD Training Course and Manual
Safety goggles and gloves