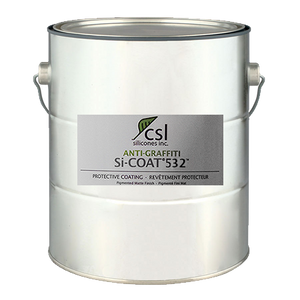 Product Information | Technical Data Sheet | Materiel Safety Data Sheet | Benefits | F.A.Q.
A low VOC solution to the problems of graffiti that can be easily applied in a single coat application.
Overview
Si-COAT® 532™ Low VOC anti-graffiti protective coating is a clear, semi-gloss, permanent (non-sacrificial) one coat anti-graffiti protective coating suitable for use over metal, concrete, brick, stone, wood, fiberglass and pre-existing coatings. This single component, room temperature vulcanizing (RTV), moisture cure polysiloxane product provides excellent durability and long service life.
As a result of its specific chemistry, Low VOC Si-COAT® 532™ forms chemical bonds with the host surface to enhance adhesion properties without the need for abrasive blasting, priming, and extensive site preparation. Due to the hydrophobicity of the coating, graffiti can easily be removed from protected surfaces, simply using water under low pressure -1200 psi (ASTM D7089 Cleanability Level One).
Benefits
• Environmentally Responsible, Low VOC
• Easy Application – Single coat, can be applied using airless sprayer, roller or brush.
• Quick Dry Time – Tack free in 60 minutes; cure time 4-6 hours.
• Superior Performance & Durability – Permanent, water cleanable and UV resistant. Graffiti can be washed off using a pressure washer (1200 psi) or soft bristle brush and water.
• Versatile – Use on most metal, concrete, brick, stone, wood, fiberglass and pre-existing coatings.