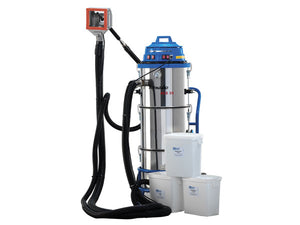 ACS 15 & ACS 28 - Advanced Cleaning System
Available now
Call SUPERIOR for a quote!
(800) 741-2532
Tornado ACS BOOK | Tornado ACS Features | Tornado Hospital Insert | Tornado Insert
Introducing the Tornado ACS Advanced Cleaning System. This unique multi-purpose, multi-surface cleaning system is eco-friendly and versatile. It excels at the removal of graffiti, the remediation of mold, the restoration of fire & smoke damage, restoring masonry and stone to it's original lustor, and more.

Tornado ACS utilizes small cleaning granulates at high speed to remove surface pollutants without the use of water or chemicals. The operator places the cleaning head atop the surface and the granules go to work. Affected material is sucked up by a second hose leaving behind no trace of either the cleaning medium or the removed materials. A filtration system then separates the granules from the removed particles and recyles them back into the system for continued use.

The Tornado ACS is a closed system: Dust and fine particle materies are contained so the operator has no need to worry about wearing a mask or gloves!
ACS 15 technical specifications
| | |
| --- | --- |
| AC | 110 - 120 V / 50 Hz |
| Input | max. 1.600 W |
| Air output | 3 x 40 l/sec. |
| Cable length | 7 m |
| Tare weight | 41 kg |
| Height, incl. mobile car. | 1.260 mm |
| Length overall | 690 mm |
| Width overall | 630 mm |
| Length of suction hose | 4.5 m |
| Filling quantity | max. 10 l |
| Granule throughput | approx. 20 – 80 l/h (depends on jet means) |
| Granule consumption | approx. 0.2 – 0.4 l/h (depends on jet means) |
| Assembly time | approx. 5 min. |
| Disassembly time | approx. 5 min. (incl. cleaning) |
| Noise level | max. 75 dB |
ACS 28 technical specifications
| | |
| --- | --- |
| AC | 110 - 120 V / 50 Hz |
| Input | max. 2.800 W |
| Air output | 3 x 60 l/sec. |
| Cable length | 7 m |
| Tare weight | 41 kg |
| Height, incl. mobile car. | 1.260 mm |
| Length overall | 690 mm |
| Width overall | 630 mm |
| Length of suction hose | 4.5 m |
| Filling quantity | max. 10 l |
| Granule throughput | approx. 20 – 80 l/h (depends on jet means) |
| Granule consumption | approx. 0.2 – 0.4 l/h (depends on jet means) |
| Assembly time | approx. 5 min. |
| Disassembly time | approx. 5 min. (incl. cleaning) |
| Noise level | max. 75 dB |
Features and advantages
Feature
Advantages
Uses
No Water
Dry work, no soaking of masonry No expensive wastewater disposal
Precise work, not unfriendly to the environment No expensive waste disposal
No Chemicals
Can be used under frost condition Free of acids, caustics, solvents
Not subject to environmental protection People and environment protected
Dust Free
Jet medium and removed waste material are 100% sucked up, filtered and separated in the unit
No annoyance or restriction of business activity or attention to customers during cleaning operations Ideal for indoor usage
The only machine for problem free indoor usage
Simply connect to common power supply

No offensive smell or noise, no regulations or restrictions
Ideal for use in housing or sanitary areas

Reusable jet medium
Economical usage of blast medium Usable approximately 100 times in a closed cycle
Cost and time saving by re-usage of the blast medium
Less repeat orders required
No louder than vacuum cleaners
Noise level only 75dB, equivalent to a vacuum cleaner
No annoyance or restriction of business activity or attention to customers during cleaning operation
Quick setup
Assembly and disassembly in under 10 minutes
Immediately available for use, no preparation necessary
Fast efficient cleaning, therefore time efficient
The device is rust proof
Constructed of high grade steel and plastic
Durable and almost maintenance free, thus economical to use
Light and compact
Total weight is 40kg - thus may be carried by a single person
Movable on wheels, easy to use on hydraulic platforms, scaffolding, elevators and façade cars
Low personnel costs, being easy to transport and to change location; usable in difficult heights
Set-up is possible without official sanction or roadblocks
Simple operation
Only 10 minutes training required to learn how to operate the unit
No specialist is required to operate, leading to low personnel cost
Application is gentle
The correct granulate is available for each type of surface
Especially suitable and usable on sensitive and valuable surfaces
Easy to handle due to distinguishing granulate features
Friendly to Environment
The system and materials used are environmentally friendly
No protection is necessary as there is no negative impact on the environment
Highest form of accident protection
Operations is only possible when the jet cap is fitted tightly against the surface and the cycle is closed
No protective clothing is required, there can be no unintentional or accidental jet escape or malfunction
choosing a selection results in a full page refresh